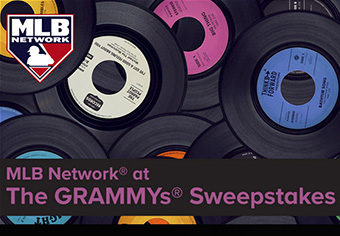 MLB At The GRAMMYs Sweepstakes
Posted on Mar 15, 2017 - by Rachel Asher
The story of one Grand Prize Winner's red carpet experience.
One of my favorite parts of this job is fulfilling prizes for sweepstakes winners. They are usually shocked to have won and sometimes even hang up on my initial call in disbelief. In this instance, MLB Network teamed up with The Recording Academy to give fans of baseball and music the chance to attend the GRAMMY Awards, music's version of the World Series, and our Grand Prize Winner could not have been more ecstatic to win this trip.
Leading up to Feb. 12, MLB Network featured various GRAMMY-nominated songs during its broadcasts, including spots on the morning show "Hot Stove", the daily "Intentional Talk" show and the nighttime program "MLB Tonight". Fans that tuned-in to MLB Network to find out the special code and entered to win at MLB.com/grammysweeps were eligible to win a grand prize including two tickets to attend the 59th GRAMMY Awards at the Staples Center in Los Angeles, including GRAMMY Celebration After-Party, round-trip airfare, hotel, and ground transportation.
The grand prize winner and guest also had the honor of walking the GRAMMY red carpet with former big league players and current MLB Network analysts Kevin Millar and Harold Reynolds.
DLM administered the MLB Network at The GRAMMY's Sweepstakes, including writing the official rules, selecting the winners, and fulfilling the once in a lifetime grand prize trip.
Sky High Fives,
Rachel