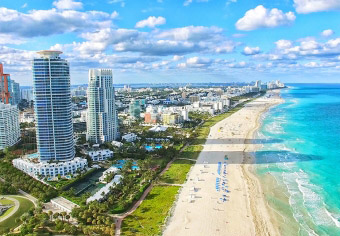 Fun in the Sun for 70
Posted on Jun 1, 2017 - by Rachel Asher
DLM successfully completed a fantastic meeting for 70 employees of DISH Media Sales in Miami, FL.
I have to say that we sourced the perfect resort for this group. The Palms in South Beach had 5-star service, prime beach-front location (which can be tricky to find in Miami), and amazing food and beverage. We managed this on-site and provided DISH with a classy and seamless travel and event experience for their annual Offsite Meeting. Our hotel and airline negotiated rates were top in the industry keeping DISH under budget with more money to spend on the fun stuff.
The weekend festivities began with a welcome reception beachside at the Tiki Bar on South Beach. After a full day of meetings (complete with custom audio/visual, breakfast, lunch, snacks and beverages) the group was ready for a day at sea! Having done several groups in Miami, I had the perfect yacht in mind for this size group. We spent the day cruising around the bay and scenic islands of Miami while listening to live music from a local DJ. DISH branding on the yacht kicked it up a notch along with fun sailor hats for the guests.
Sky High Fives,
Rachel