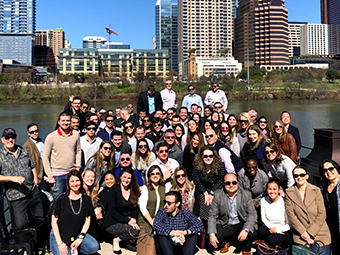 Everything Is Bigger In Texas
Posted on May 1, 2019 - by Rachel Asher
For the third consecutive year, DLM was asked to handle the DISH Media Off-Site Group Trip. What made this year unique was making it bigger and better in a record time of 6 weeks!!
Using our excellent vendor relationships with the Austin Tourism Board and Marriott International, DLM booked the new and trendy Westin Austin and this group of 110 guests was ready to take Texas by storm. This year was comprised of 80 hotel rooms, 2 days of meetings, 3 epic events, and memories to last a lifetime.
After the first full day of meetings, the group enjoyed a night at Austin's historic Speakeasy, including a fajita bar, vintage bowling lanes and live entertainment by (my personal favorite) Henry And The Invisibles. Even in the rain, we partied into the late hours of the night.
On the second day, the team couldn't wait to wrap up meetings and take to Ladybird Lake for a private DISH Media boat cruise. Complete with a Texas BBQ menu, beer in custom branded koozies, live DJ on the top deck and a gorgeous sunny afternoon, the group enjoyed several hours of Austin's skyline while cruising the lake.
While everyone was sad to head back to the East Coast snow, they are already looking forward to the next DISH event where DLM plans to raise the bar, yet again, in 2020.
Sky High Fives,
Rachel