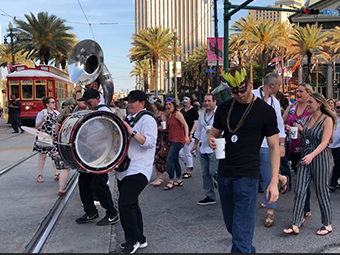 Dish Media Sales Down By The Bayou
Posted on Jun 4, 2018 - by Rachel Asher
It was a privilege to work with Dish Media Sales for a second year in a row for their annual offsite meeting.
Digital Lion flew more than 90 people to New Orleans for 2 action packed nights. Our hotel selection, NOPSI, was the perfect fit for this group. A boutique hotel located in the old New Orleans Public Service Inc. building, NOPSI not only offers luxurious accommodations, excellent food and beverage, and top-notch service, but also an impressive ballroom for a full day of meetings. Equally impressive was an appearance by former NFL star Ryan Clark!
Since this group works hard, we wanted to also let them play hard. We planned an unforgetable night that made this one of the most exciting groups I have ever hosted.
In New Orleans, culture comes bubbling up from the streets and one of the most unique local expressions of this sort of culture is the second line parade. As the group enjoyed cocktails in the hotel lobby, our very own brass band and reveler arrived and led the group with beads and masks out to the streets. We paraded to a private venue for dinner and then headed to the historic Frenchman Street for a Jazz Club Crawl. With music pouring out of every window and live musicians performing on the streets, our clients from Dish Media Sales danced the night away bonding with colleagues and creating memories to last a lifetime.
With a client testimonial like this, it doesn't get any better. I already can't wait until next year!
"We want to extend a HUGE thank you for your exceptional work on this Offsite. We have received incredible feedback and that is a testament to the countless hours, creativity and attention that you put into this event. You were wonderful to work with and I can't wait to get started on our next project."
Sky High Fives,
Rachel