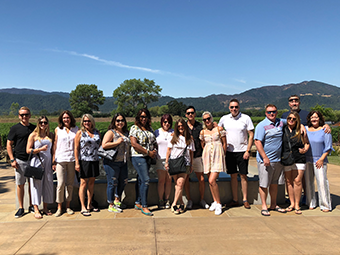 Cabernet All Day
Posted on Aug 28, 2018 - by Rachel Asher
Comcast Spotlight's California Region hired Digital Lion Marketing to create and host an unforgettable Napa Valley experience for VIP clients.
With endless options for wineries, activities and restaurants for groups to enjoy, this is one our favorite destinations. We pride ourselves on being experts in this area of the U.S. and our access to behind the scenes winery experiences is unique and impressive, even to high-level executives.
A few of my favorite highlights (aside from some of the best Cabernet in The Valley) include a private lunch catered by Michelin-rated Bouchon overlooking sweeping views of the Miner Family vineyards, and an exclusive behind the scenes tour and private tasting in the world-class Chimney Rock wine cave. We added luxurious accommodations at the Hotel Yountville, private group breakfasts overlooking vineyards (I mean, this is Napa, right?), a full day of wine tasting, and a private dinner at the highly acclaimed Bottega restaurant, to make this a memorable weekend for Spotlight's local advertising clients.
I can't wait for the next Napa adventure, as this destination always leaves me wanting more!
Sky High Fives,
Rachel