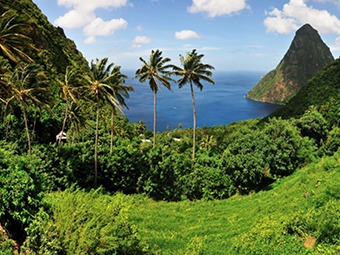 Bonjou (Hello) From St Lucia!
Posted on Mar 6, 2019 - by Rachel Asher
While many of your clients have likely visited the Caribbean Islands, I'm willing to bet that few have travelled to St. Lucia...yet! After reading this, you too will want to host your clients on this stunning island ranked 5th Best Island in the World by Condé Nast Traveler in 2018.
Digital Lion recently created a custom incentive trip for 15 couples to Marigot Bay Resort in St. Lucia. Not only were the clients impressed with the all Ocean View Suite accommodations, they also loved the authenticity of the island that has a culture mix like no other, including a colorful history and a love for anything chocolate! DLM made special arrangements for a private performance by local St. Lucian fire dancers at the farewell dinner to showcase the local flare and a private catamaran sunset cruise along the Caribbean Coast to take in the Island.
St Lucia packs a (rum!) punch with its dramatic landscapes – think volcanic mountains plunging down to the sea, rain forests, Sulphur springs and idyllic beaches. Much of the coastline is protected marine reserve that you can only experience by boat! This is one Island that is absolutely on the top of my "must travel to" list and I couldn't recommend it more for your next client incentive trip.
Sky High Fives,
Rachel