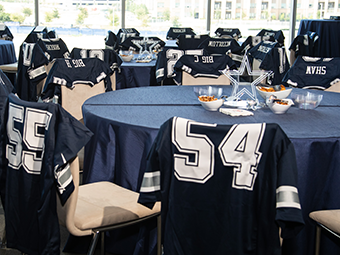 A Very "Starry" Event
Posted on Aug 5, 2019 - by Rachel Asher
What do you get when you have a couple of NFL's greatest stars appear for one of NFL Network's star partners at The Star in Dallas? An event that goes down as one of the starriest in Digital Lion history.
When NFL Network hired our team to plan a very special screening of "A Football Life" featuring Emmitt Smith for their affiliate partner in Dallas, we knew there was no more perfect venue than The Star. This state-of-the-art Dallas Cowboys World Headquarters and practice facility features a screening room, ballroom, War Room, player weight room, 2 practice fields, 5 Lombardi Trophies, and enough historic Cowboys memorabilia to impress the ultimate fan.
We kicked the night off with a cocktail reception followed by a screening of "A Football Life", where guests were gifted a personalized Dallas Cowboys jersey as they entered. While the guests' reactions to the episode were emotional with laughter and tears throughout, there was nothing better than seeing the smiles and standing ovation when Cowboy legends, Emmitt Smith and Darryl Johnston, entered the room for a live Q&A. This was an unforgettable moment!
It's always a pleasure to plan a "money can't buy" experience for our clients. Something outside of the box, that leaves a lasting impression on their most important customers and helps strengthen their partnerships.
Until next time...
Sky High Fives,
Rachel